Sinkhole Litigation
Richard T. Heiden, P.A. is an experienced trial lawfirm in sinkhole litigation. Mr. Heiden

has been involved in numerous sinkhole cases and successfully tried them through jury trial. If you believe you have sinkhole damage to your structure you should contact Richard T. Heiden, P.A. and get our office involved as early as possible to assist you in filing a claim and handling it through its proper resolution. The following is a list of common evidence of Sinkhole Activity:
New cracks in your ceilings or walls;
Separation at corners, doors, or windows;
Cracks in foundation;
Strange and loud noises (many people have reported loud pops and other cracking sounds often during the stillness of night);
Doors or windows that no longer work properly;
Floors that become unlevel;
Tree roots exposed that were not there before;
Depressed areas on property that were not there before;
Muddy water in the well water;
Cracks in your pavement;
Ponding of water where water had not collected before;
Slanting of trees or fences;
Cracks in the ground;
Drying and wilting of vegetation;
Exposure of exterior footer or separation of soil from floor slab;
Poor compaction of soil;
Known sinkhole activity in your immediate area.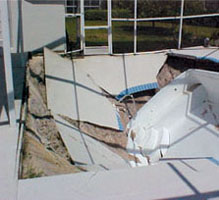 If you have filed a sinkhole claim prior to hiring our firm, we can assist you if your claim has been wrongfully denied. We will assist you in evaluating any materials submitted to you by the insurance company, including a denial letter and any and all documents relating thereto to determine whether or not the insurance company has acted in good faith with you and pursuant to the law and your insurance policy. In the event our firm is hired, we will undertake all representation in sinkhole matters on a contingency fee basis. In other words, you will not be liable for any attorney's fees or costs unless a recovery is made on your behalf. As experienced sinkhole litigation attorneys, our firm has handled sinkhole claims throughout the State of Florida including: Miami, Broward County, Osceola, Pasco County, Hernando County and Pinellas County. If you have a sinkhole claim within the State of Florida, you may obtain a free consultation from our firm regarding your rights as an insured under your homeowner's policy of insurance. Mr. Heiden has acted as lead trial counsel in numerous sinkhole cases that have been taken to verdict in the state of Florida.